Alke Electric Vehicle
Topic: Alke Electric Vehicle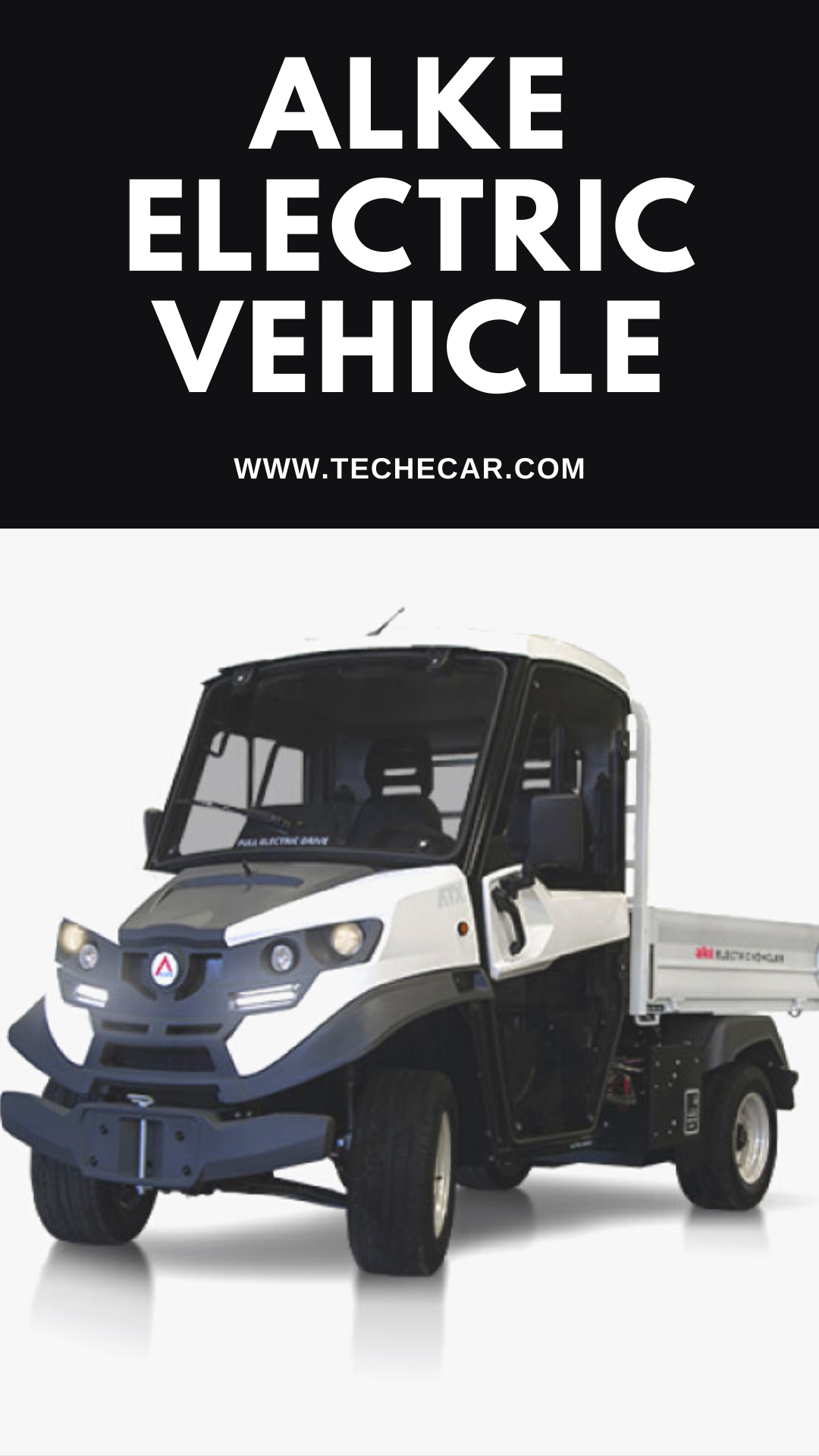 High Performance: The European N1 type-approved ATX vehicles provide unheard-of Performance to the road: maximum weight of 4,500 kg and a load capacity of 1,630 kg with a towing capacity of 2000 kg.
Powerful: Alke' electric vehicles are equipped with motors that provide strong torque and smooth power distribution, making them suited for heavy industrial use while also being able to handle challenging off-road conditions like sand, snow, or ice.
High autonomy: Alke' ATX electric vehicles offer an autonomy of up to 200 km WLTP and, thanks to an approved fifth wheel, can be used with semi-trailers.
ECO settings on the motor and low-consumption road driving tyres help keep the vehicle's energy usage to a minimum.
A wide range of options: three different cargo beds measuring 130×123 cm, 180×123 cm, and 200×140 cm.
Over 100 various configurations: the list of configurations is growing all the time, and there are already more than one hundred conceivable possibilities for both 2 and 4 seater vehicles and left-hand and right-hand drive.
Maximum flexibility as far as batteries are concerned: the ATX cars come with 6 different battery options ranging from lead and gel to lithium. High-capacity battery packs, fast charging systems, or several battery packs with battery swap systems are all options if you have certain autonomy requirements.
A new generation of electric vehicles exists that can put performances on a level with and in specific instances superior to the conventional diesel or petrol vehicles of the same category. It is the case with the ATX E series, professional electrical vehicles employed in the roughest and most demanding environments.
Silence and zero emissions are key features of Alke' electric vehicles. Converting nearly their entire fleet to high-performance electric vehicles like the ATX E is not happening by accident.
The greenest and quietest rubbish collection vehicles for urban areas, sports centres, airports, among others.
Quiet, compact and easy to move around, they are utilised in hospitals, tourist resorts, and caterers.
Transporting goods in urban areas calls for vehicles that are efficient, quiet, and have little impact on the environment.
It makes a big difference being allowed to move and operate without time or space constraints within residential neighbourhoods, tourist structures, parks and golf clubs, exactly as in areas within civil or commercial airports, without disturbing tourists or operators living in these regions.
The investment for an ATX E is re-paid in average terms by the maintenance expenses, which are considerably lower than identical diesel and petrol vehicles. Maintenance is essentially inexistent, and there are noticeable reductions in fuel use.
Technical life, in working hours, of an electric vehicle of this type, is often twice, if not treble, concerning a traditional fuel vehicle.
What factors must be considered to make a good deal and avoid being disappointed by purchasing any brand of an electric vehicle? We will also discuss which characteristics should be considered when analysing the prices of electric vehicles for individuals who are not in the industry.
While acquiring an electric vehicle, it is instantly apparent that the price is more than a diesel/petrol vehicle, but we do not know if this difference is justified.
Is the price of the electric machine including the batteries, or do I have to pay/rent them separately?
When purchasing an electric vehicle, you should inquire whether the batteries are included in the purchase price. In other circumstances, the batteries are sold or rented separately, and the price of the battery pack varies according to how many kilometres you wish to ride.
How long can an electric vehicle run?
Electric vehicles have a maximum life duration that varies depending on the type of vehicle, although they normally survive longer than a conventional fuel vehicle. A professional electric vehicle has an average life span of 10 years, whereas golf cars and electric quadricycles have far shorter lives.
How Alke' works: The Alke' electric vehicles operate without issue for up to ten years. After about 4 years, the batteries must be replaced, and routine maintenance must be performed, which in all cases is much less than for a standard diesel-petrol vehicle.
What is an electric vehicle's manufacturing quality?
A vehicle made in Europe is unquestionably more expensive than one made in China.
Electric vehicles' after-sales services, parts, and manufacturing quality are significantly different.
Alke' electric vehicles are built in Italy; they are not imported and re-branded vehicles, which ensures quality, respect for the environment, and respect for the people who produce the electric vehicle. Furthermore, before leaving the facility, all Alke' cars are tested.
How long do the batteries last?
Another critical factor is the expected lifespan of the batteries. Poor quality batteries will only last a year or two. They may be less expensive, but keep in mind the cost of an original pair of batteries.
How does Alke' work? The batteries in an Alke' electric vehicle have an average lifespan of roughly 4 – 4 and a half years if properly serviced. They are very good driving batteries.
How far can electric vehicles travel, and how fast can they go?
The range of electric vehicles is a critical parameter: electric vehicles typically have a limited range, and a balance between battery costs and autonomy is sought.
For example, if 200 kilometres of the range are necessary, lithium batteries must be utilised, but their current cost is excessive; we're talking about 10,000-15,000 euros simply for the batteries.
Furthermore, the batteries are not suited for off-road energy recovery in descent.
The range of Alke' varies from 70 to 180 km, and the maximum speed varies from 25 to 60 km/h depending on the model. The drive batteries used in an Alke' electric vehicle have improved performance, particularly when starting from a stop and when driving uphill.
Although the maximum speed is limited, the cost of these battery packs is roughly one-fifth that of a lithium battery, so around 2,000 – 3,000 Euro.
Innovative setups, such as braking energy recovery and when travelling downhill, on-board battery charger, and vehicle programming based on real-world usage by the client, have been employed to enhance range. Alke' is dedicated to constant improvement in this area.
For how many years will I be able to easily find spare parts? Will I be able to fix the electric vehicle in the future?
Another critical element is that spare parts must be easily and quickly accessible. Re-branded imported vehicles frequently lack spare parts or require a lengthy period to obtain them.
In other cases, if you buy imported electric vehicles, spare components are only guaranteed for a limited time.
Alke' guarantees spare parts for all-electric vehicles within 48 working hours in most cases. Everything is made in Italy and thus readily available. Alkè offers spare parts for all of its models, including several years ago. Even after ten years, you can get your vehicle fixed without buying a new one.
How robust is the chassis?
If you must utilise electric vehicles for work, ensure that the vehicle's chassis is strong enough to withstand harsh conditions and meets the highest safety standards.
The Alke' electric vehicle chassis is derived directly from ATX off-road vehicles, also employed by the armed services and civil protection. The Alke' electric vehicles are perfect for use in the workplace.
Is it possible to deduct the cost of an electric vehicle from one's taxes?
Electric vehicles are completely or partially tax-deductible in various nations. Furthermore, incentives or other types of promotions are envisaged in some cases.
Alke' works: Alke' electric vehicles take advantage of tax breaks and other incentives based on type approval and destination country.
Electric vans are the most cost-effective.
Learn about the most affordable electric vans on the market—commercial vehicles with small dimensions but great cargo and hauling capacity.
Why Alke' is the most affordable electric van?
Superiority: Suppliers from Italy or Europe; rigorous quality control
A heavy emphasis on new technologies and innovation.
Only 140 cm wide, agile and compact:
The maximum weight capacity is 1,630 kg (chassis)
Maximum towing weight: 4,500 kilogrammes
Alkè van quality control and inspection
Before they leave the factory, Alke's vans are individually inspected to ensure that they are safe, reliable, and of the highest possible quality. Every aspect of the car is checked, including the electrical, mechanical, and battery systems and the fluid levels.
With its 11,000 m2 and a dedicated test track, the Alke factory allows for all the necessary tests to be carried out for the final check. Quality control at all levels of manufacturing, from individual parts and pre-assemblies to whole vehicles, has always been a priority for Alke.
As a result, all of our suppliers are European or Italian, allowing us to provide the greatest level of quality while also responding quickly and flexibly to any new requirements.
A fresh approach paired with cutting-edge technology
Additionally, Alke's experts and engineers perform a series of tests on each van before it is delivered to the customer to verify specific van performances, such as ramp tests, tests in specific weather conditions, tests on batteries and other electronic components, to ensure continuous improvement and to provide innovative solutions.
To create new solutions for electric vehicles, Alkè participates in worldwide research programmes.
Alkè vans can be fitted with a Vehicle Body Computer (VBC) that links all the vehicle devices to the Alkè cloud platform for real-time monitoring of on-board activities and remote diagnostics, again in real-time, in the event of anomalies from a technological perspective.
It is common for organic farmers to use Alkè electric vehicles because they are completely pollution-free yet powerful enough to handle the most difficult tasks. They are extremely strong and harrowing and have a unique towing capacity.
To run a farm, why not use an Alkè electric tractor?
Powerful enough to compete with a 4×4.
As much as 1,630 lb of payload and 4,500 lb towing capacity
Compact and environmentally friendly
Quality Italian-made goods
Even on dirt roads, you can expect the best performance.
The agricultural industry has transitioned away from huge tractors to more fuel-efficient small vehicles in recent years. A new type of farm utility vehicle has emerged: specifically designed for a single task and powered by an electric engine.
For this reason, the off-road ATX-derived chassis of Alkè's electric vehicles makes them one of the few that can be utilised in agriculture.
The best layout for a farm vehicle is largely determined by the final task required to complete. Make sure you know where you'll be using the ATX before you buy it (on light dirt or very challenging off-road conditions, open spaces or confined spaces, on flat or mountainous terrain).
These electric agricultural vehicles range up to 200 kilometres, so they can run all day without needing to be recharged.
There are numerous applications for this product.
The use of Alkè agricultural vehicles is not limited to orchards and nurseries. Crops and tools can be transported without dealing with challenging working circumstances such as dirt tracks or country roads. In addition, they meet N1 standards for road use.
Its independent MacPherson front suspension and rear suspension with a De-Dion axle and anti-roll bar, which lets the rear wheels grip better on rough roads and smooth out the ride, make the ATX340E the best model for off-road use.
Because of its low centre of gravity and off-road-like traction, it can handle tough terrain with ease. Off-road tyres can be added for even better comfort.
Alkè electric vehicles can tow up to 4000Kg. This has been achievable only utilising a very strong structure and large power engines. There were no electric vehicles capable of hauling such heavy loads until now, but now you can with one that can pull up to 4000 kg.
Alkè offers a wide range of trailers in various sizes and capacities and boarder and steel mesh sides to its customers.
Electric Vehicles                                                                                                                                        Towing Capacity
XT 420E 4×4 electric vehicle                                                                                                                                  4000 kg
XT 320E electric vehicle                                                                                                                                          3000 kg
ATX 280E                                                                                                                                                                   3000 kg
ATX 100E – ATX 200E                                                                                                                                             2000 kg
ATX 200E AR                                                                                                                                                             2000 kg
People Also Ask:
Where are Alke' electric vehicles made?
Alkè is an Italian truck, electric vehicles, and diesel engine company situated in Padua, Italy. The firm was formed in 1992.
What is Alke' electric vehicles?
100% Italian, Alke' electric cars are professional transport vehicles built to withstand the worst conditions. Road, heavy-duty, and explosion-proof models are all readily available.
Why is Alke' electric vehicles powerful?
Powerful: the Alke' electric vehicles are supplied with motors giving strong torque and gradual power distribution, perfect for intensive industrial use and, at the same time, for tackling challenging off-road terrains, such as sand, snow or ice.
Is Alke' electric vehicles?
Transport, logistics, and other multi-functional or special operations use Alke's type-approved electric road vehicles. ISO 9001, ISO 14001, and OHSAS 18001 are all part of Alke's integrated management system.
Recommended Articles:
Stealth Night Hawk Electric Vehicle
New Orleans Roadside Assistance