What To Do After Buying A New Car?
Topic: What To Do After Buying A New Car?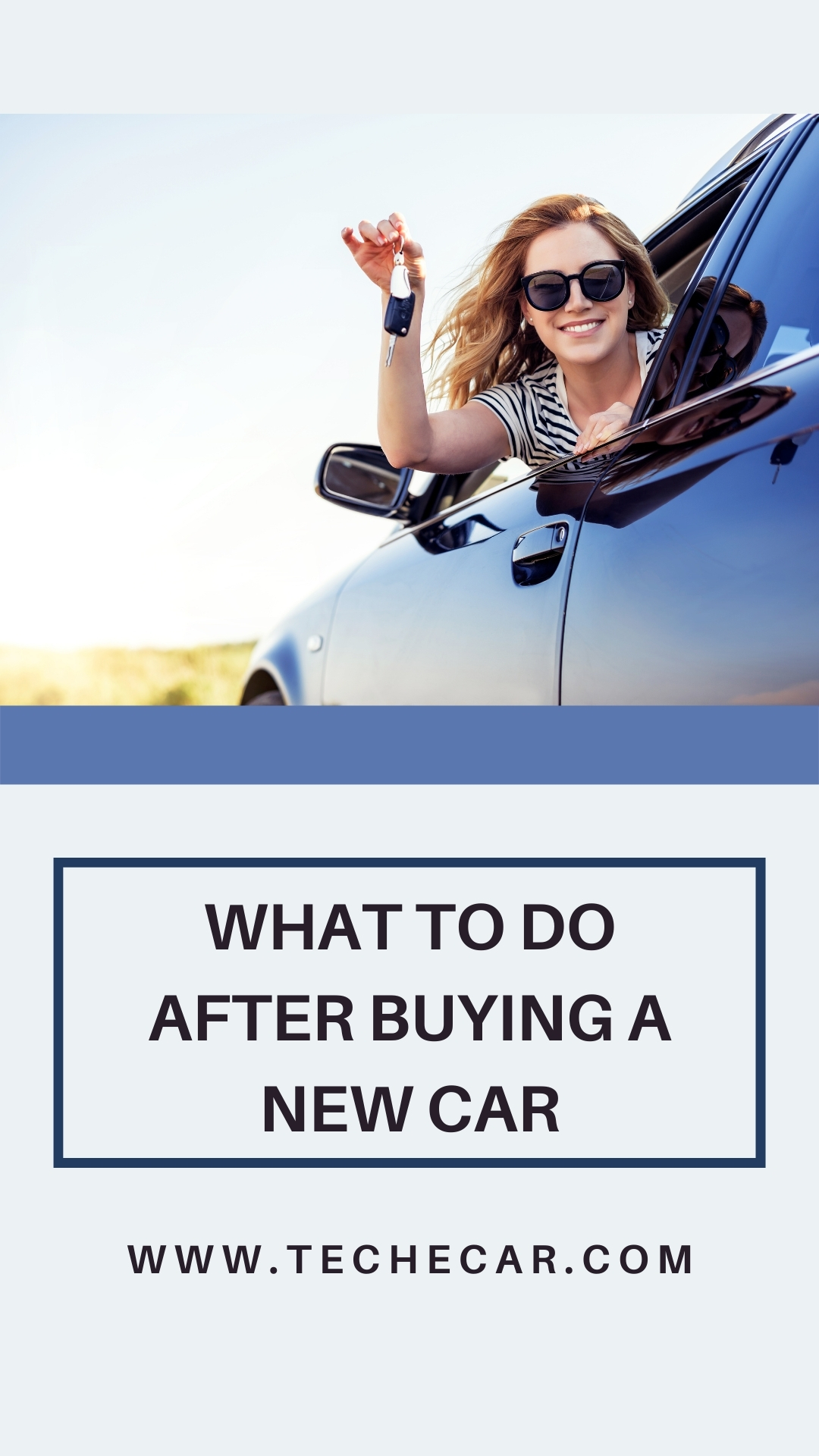 There are important formalities to follow if you are buying a car or thinking about getting one.
It's always thrilling to buy a car. It's a joy to compare features and take multiple test drives.
There are many options for happiness and fun, whether you're thinking about buying a car or upgrading. However, it is important to follow certain steps to ensure that all formalities are completed. Let's take a look at the next steps after you have christened your new car.
1. Paperwork:
All documents related to your car should be checked. All paperwork required by your dealer should be in your possession. You will need the original receipt for payment, the tax receipt, the registration details, the insurance certificate, the delivery challan, and the docket with original papers that pertain to any loans or financial installments.
2. Insurance:
Comprehensive car insurance covers you against all loss or damage. Ask your dealer for details about the policy. Before you sign on the dotted lines, make sure you read the fine print. This will ensure you understand exactly what you are paying for: riders, premiums, benefits, and so forth.
It is important to inquire about the possibility of policy changes over time.
Registration: 
It is illegal to drive your car without a registration certificate. Your dealer will be able to help you with temporary registrations that last for about 30 days. A permanent one will follow up the temporary registration. This permanent registration can be obtained from your local Regional Transport Office. This document is vital for car owners. It is important to keep it safe.
3. Pollution certificate
Also, you will need a pollution control certificate. You could be fined by the traffic police if you don't have the certificate. The dealer will initially give the certificate to your car since the car is new and hasn't yet been on the road. You will need to renew the certificate at least every six months at a pollution check camp' at your closest petrol station.
4. Service for the breakdown:
You are almost done! You won't need a breakdown service. It is true that your car is brand new, but it could have a small problem or fault, which could cause major inconvenience. It might be a good idea to keep a number for a breakdown service handy. This service can be purchased for a small fee to ensure that you are worry-free all year. You can also keep your neon signs handy if they aren't already part of your car's toolkit.
You can, for example, display this neon sign to deter any car from approaching you if you have a flat tire at night.
You can now drive your beautiful car around with all of the paperwork in place. Keep the paperwork close at hand and drive safely.
What To Do After Buying A New Car?
To keep your car in top condition, you should do all that is required. Although I have covered many of these aspects before, I am only summarizing them.
Please read the Owner's Manual carefully.

Keep curious about your car's capabilities and limitations.

Get car floor lamination done (Cost approx. Cost: Rs. From 1500 to 5000 This covers a woolly car floor. This reduces the car's microbe load and makes interior cleaning easy.

Keep to the recommended maximum. RPM range till 1000-2000 km. Use proper gear to do this. Do not use the brakes or accelerator too much. It is worth spending some money to have your engine oil changed at the 1st inspection. It will ensure that the engine runs as it should. These little precautions will help ensure the engine and transmission last a long time.

Removing plastic laminates from the interior is a good idea. Avoid using low-quality perfumes. Remove any new smells from your car as soon as possible. These VOCs are harmful to the body.

Warm-up your car's engine for at least 2 minutes before you start driving. Before turning off the engine, idle the car for between 30 seconds and 1 minute. This will help you keep your engine clean.

A small grease pouch and a silicone polish are both good options. You should inspect the areas where there may be corrosion. They should be kept well lubricated (door hinges, bolts n screws, etc.). You should also inspect the hood once a week for any damage/bites by rats.
These small acts of kindness can make a big impact on your car's long-term health.
Understanding your car is crucial, especially if it's your first car. Even if you have owned a car before, it is important to understand your vehicle. All newer models and versions offer something better than older models. Many newer cars have better safety features such as ABS, airbags, hill assist, corner stability control, reverse parking cameras, and Hill assists. The manual should help you understand each one. You can also go to youtube and view videos that explain the functions. You can also learn how to do basic repairs such as changing a tire or checking the coolant or engine oil levels.

Learn the Warning Lights and Buttons: Many new cars come loaded with features. You can use the indicator lights to learn their meaning. This is where the user manual of your car comes in handy. It is important to understand the meaning and functions of warning lights to take appropriate actions.

Take a measure of your car's capabilities: Every car performs differently on the road. It's important to get a fair idea about your car's acceleration and braking capabilities. This information is not available from the rated values. It is crucial to have a good idea of the capabilities to make a difference in a crisis.

Measure your driving abilities: This is a must-have for any new driver. You should never, and I repeat, NEVER exceed your safe range of acceleration and speed. Accidents don't happen as planned. Your split-second decision and actions could make the difference between you and someone else becoming alive or dying. Be very careful while driving.

Timely servicing is the best option, but it's important to be vigilant. Regular oil and filter changes will ensure your engine is running at its best and give you better mileage and performance. Go to the service center the first time. However, be sure to keep your eyes open if you are asked for further repairs or replacements. Servicing is a lucrative business, and you need to distinguish between what is essential and what is redundant.

Go for accessories/attachments: While a few features such as Fog lamps, music system/ video system/ reverse cam, etc., are more expensive from the OEM, they can be found at a fraction of the cost outside. There is a reason. It is impossible to match the performance or quality of an attachment installed outside with the factory-fitted one. This is something you need to keep in mind. You should also be aware that certain attachments can affect the engine and power systems and cause the car's warranty to be voided. These attachments should not be applied to a new vehicle. Also, if possible, you can think of taking 3M coating services for paint/engine/internal panel/under-body protection. Although manufacturers take care of these, considering the conditions of roads and how much waterlogging cars in cities have to endure each year, it's not unreasonable to apply an extra coat of anti-rust material to the existing one. 3M is an international expert in this field.

Extended Warranty: This is a tricky one. Most cars come with a 3-year warranty in India. You can get an additional 1 or 2 years for a few thousand rupees. It does not cover everything, and parts usually covered by EW can be covered for the car's entire life. But, I was able to tell you about a Hyundai car whose power steering failed after just four years. He was able to save Rs 35k by purchasing an extended warranty for around 10000 rupees. The choice is yours. In my case, the EW was my best option for both my cars.

I don't advocate changing the tires or thickness of a car after it is purchased. The frictions generated by the OEM tire grade are the best for the car's engine. Usually, factory-fitted tires last a long time.
Recommended Articles:
What Is Hybrid Electric Vehicle?
How Long Does It Take To Charge A Tesla?
Electric Van That Could Use Solar Panels
Tesla Autopilot with Convenience Features