Fiat 500e Problems
Topic: Fiat 500e Problems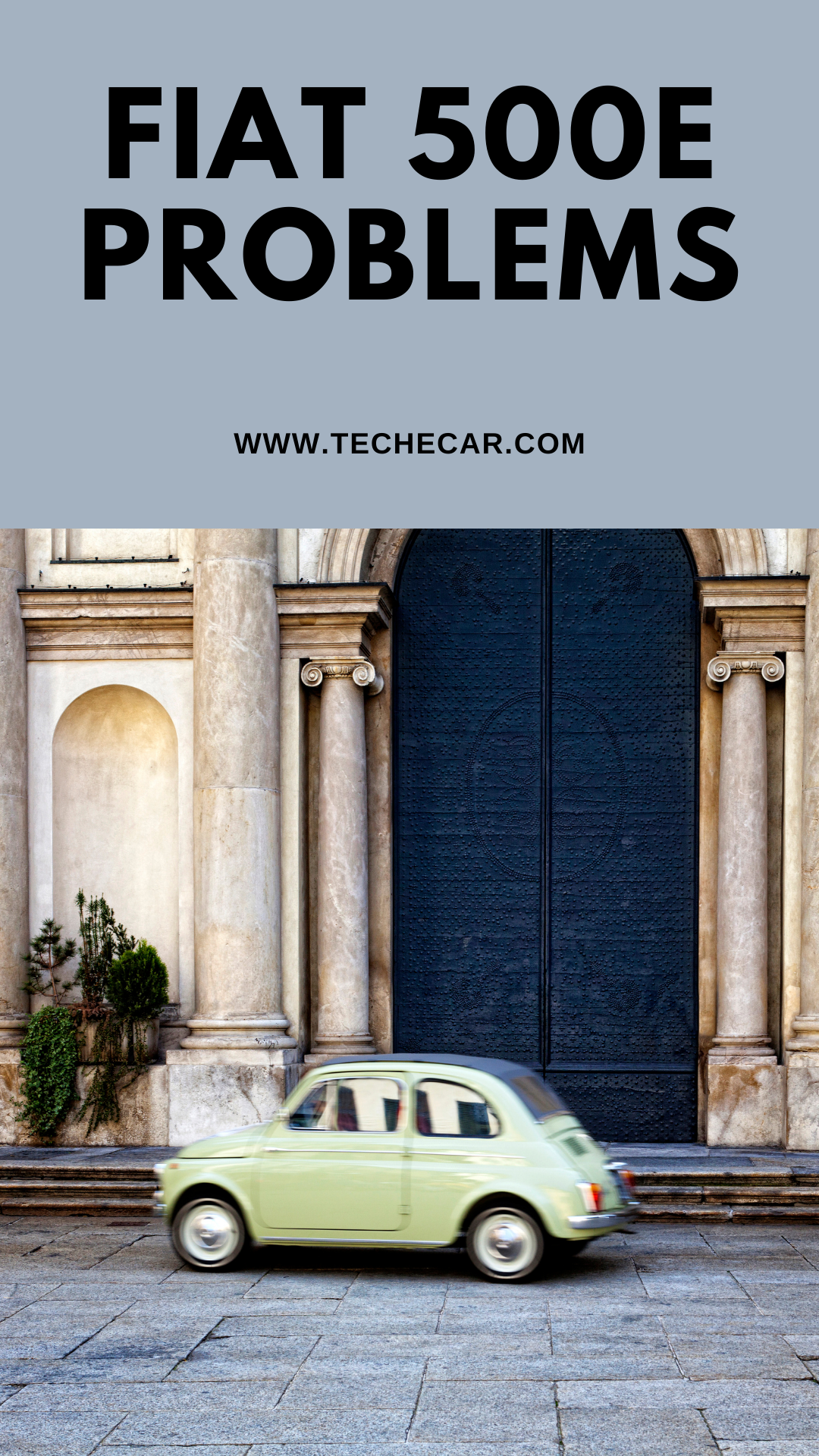 Fiat 500e Problems
Although it resembles the Fiat 500 we all know and love, this model is much more than a cosmetic update. The chassis, body, and interior are all new, with no parts from the previous model.
The drivetrain, which is now entirely electric, is the same way. Although the gas-powered predecessor will continue to be sold for the time being due to its enduring appeal, there is no internal-combustion version.
However, such a radical alteration does not imply a complete cosmetic revamp. Instead, the new Fiat 500e has all of the beauty of the previous model (and, of course, 1957 original), but it's far more mature.
The new car is 61mm longer, 56mm wider, and 29mm taller than the previous model, but it is still a front-wheel-drive tiny city car with an airy interior upfront and only really subtle seats for children in the back.
Inside, the organic feel is retained, but the Icon trim level adds modern sophistication in the shape of a big, 10.25-inch touchscreen display, as well as a 7-inch driver instrument display. The two-spoke steering wheel has a classic vibe about it, and Fiat has wisely preserved tactile controls for adjusting the climate.
Legroom for back seat occupants is restricted, as it has always been in the Fiat 500, but unusually (at least in this right-hand-drive car), the driver's left leg has very little space. It's hardly a deal-breaker, but it does show how tightly the 500e is wrapped.
The Fiat 500 is one of the few cars that feels right at home in the city, and the 500e is even more so. Electric drivetrains are easy to operate in towns and cities due to their simplicity.
While the Fiat's performance isn't awe-inspiring – even the more powerful variant tested here takes 9.0 seconds to reach 60 mph – its nimble off-the-line performance makes it simple to sprint out of traffic jams and keeps up with the cut-and-thrust of city streets.
However, I believe the 500e's accelerator calibration should be improved, particularly in Range mode, allowing one-pedal driving.
I'm always astonished by how well electric car designers calculate how much power the accelerator summons with each millimetre of movement and how the regenerative braking system gently puts them to a stop.
However, Fiat hasn't quite got it, especially when creep (as in a conventional automatic) is disabled. When attempting to accelerate softly, the 500e lurches awkwardly off the line, then applies the parking brake forcibly when stopping.
These are minor points to make, and I don't want to belabour the matter, but manufacturers must get the fundamentals right if electric cars feel consistent. In the case of the 500e, it appears that Fiat has narrowly missed the mark. However, purchasers will likely grow accustomed to it with time.
The rest of the driving adventure is fantastic. The 500 is much more mature than its prior version for its initial electric generation. It's a car that's as composed in town as it is on the highway, with road and wind noise kept to a minimum at low and medium speeds and a comfortable ride that doesn't tyre you out even on extended trips. It's a soft ride that smooths out bumps but isn't particularly sporty. What's more, you know what? That's perfectly OK. Because this isn't a supercharged Abarth 500, comfort and compliance are paramount.
I decided to put the 500e's advertised 199-mile range and 85kW rapid charging to the test by driving 265 miles from London to the Lake District in northern England with the larger battery.
This is the kind of trip that an EV with a claimed range of over 200 miles should be able to make without breaking a sweat, and while a charge or two each way would almost certainly be required, I left London feeling confident.
Early on a Saturday morning, navigating the city was a snap, with the Fiat feeling quite at home on the city's narrow streets. This variant came with a larger 42kWh battery, a 118-horsepower motor, and a 10.25-inch touchscreen with wireless Apple CarPlay and Android Auto, as well as wireless charging and a slew of driving assistance technologies. In short, it's a pretty well-equipped car in Icon spec – which it should be, given that the car I tested cost £30,132 ($41,300 inc tax).
The base 500e features a tiny 24kWh battery, 95 horsepower (vs 118hp with the larger battery), and a range of around 100 miles in real-world conditions.
After clearing London without incident, I drove north to Warwick Services, a new service station with 12 superchargers and 12 ultra-fast chargers. I plugged in, swiped my credit card, went to brunch, and returned to a battery that was 90% charged.
After a couple of hours, it was time to recharge the battery. The Fiat's internal navigation system isn't beneficial here because. At the same time, it lists nearby chargers; it doesn't indicate what speed they are or whether they are open or occupied at the time.
Instead, I used my iPhone's Google Maps and Zap-Map applications to locate a Polar charger at a Co-Op gas station, but only after the charger I was looking for was filled by the time I arrived, leaving me with nowhere to park and wait.
Unfortunately, one of the two chargers provided was already in use, and the other was damaged. A call to the helpdesk didn't assist, and the other EV driver was nowhere to be seen, even though their battery was now fully charged and no longer charging.
After a quick check of my phone, I discovered another charger at a neighbouring Shell station, which worked perfectly.
The drive wasn't perfect, but thanks to some forethought (learning about Warwick Services) and a backup plan (the Shell station), I arrived at my destination with a valuable 30% remaining. I also knew that a grocery store half a mile away had six quick chargers, which I could use before heading home.
This experiment demonstrated that electric cars, even small city cars like the Fiat, can be utilised for longer journeys, but that they are still at the mercy of the hit-or-miss public charging network.
Returning to the automobile, I couldn't help but be enchanted with the 500e. It appears and feels like a significant improvement over the previous generation, and the electric drivetrain is ideal for it (accelerator calibration in Range mode notwithstanding).
Apart from the one-pedal Range mode, there are two other driving modes to choose from: Sherpa and Normal. Sherpa lowers the top speed and air conditioning while Normal sits in the middle, with regenerative braking minimal when coasting but increasing when the brake pedal is applied. Brake harder, and standard discs are also used.
Finally, the Fiat 500e is a difficult car to dislike. It's got a lot of personalities and keeps all of its predecessor's best features, but it's electric, a little bigger, and has a more excellent interior. All of this has resulted in a more fantastic price.
While the notion of a £30,000 Fiat 500 may be unsettling to some, electric drivetrains remain fundamentally pricey for the time being.
It isn't ideal; the one-pedal driving mode may be improved, and the cramped rear seats will turn off some purchasers. However, if you've already decided on a Fiat 500, the 500e is everything you've hoped for.
It could potentially be your sole car, thanks to the larger battery pack and careful preparation for longer trips – something the similarly-sized Mini electric and Honda E, both of which have 100-mile ranges, cannot promise.
Fiat 500e Problems
Fiat Chrysler is having software issues with its electrified vehicles.
Fiat 500 is a car manufactured by Fiat. Fiat has been forced to recall all 16,500 of its flagship electric car due to a software flaw that could raise the risk of a crash.
Fiat Chrysler recalls some Fiat 500e vehicles from the model years 2013 to 2016, manufactured between March 22, 2012, and January 29, 2016. It warns that voltage spikes in the power inverter module (PIM) could cause the propulsion system to shut down and lose motive power. A lack of motive power can raise the likelihood of a collision.
Although the models are presently only available in the United States, notably in Oregon and California, they show the difficulties associated with recalling electric vehicles when software or equipment fails.
Other manufacturers, like Tesla, have taken steps toward wireless software upgrades, similar to how mobile carriers release software fixes for users to download right away.
The recall was triggered by a routine component inspection performed by the corporation rather than a consumer complaint or observation. Fiat has yet to introduce the 500e in Europe, and this event underlines the potential for software difficulties if major recalls become commonplace.
Fiat 500e battery problems
If the battery in your Fiat 500 is emptying, it's a problem that has to be addressed right away. If your 500 is draining when turned off, it is usually due to something drawing current that it shouldn't. If your battery is depleting while you're driving, the alternator or battery is most likely to blame. There are many additional scenarios. We'll go over those in more detail below.
While parked, the Fiat 500's battery drains.
If your car was running OK when you parked it and now it won't start, there could be a few issues to blame. Most of the time, the problem is caused by the battery.
Cables for Batteries
Please look at the battery posts on your 500 where they bolt to the battery. You'll want to clean up any corrosion with a wire brush if there's a lot of it. There are also battery post cleaners available for purchase. They're usually less than ten dollars at the local parts store or Wal-Mart.
A faulty battery
When the battery drains when parked, it's almost always the battery. It could be the alternator if your 500's battery light came on while driving but before you parked. If you didn't notice a battery light and the vehicle is suddenly dead when you try to start it, the battery is the first item you should check.
You can take it to a nearby parts store to have it checked out. They'll have to charge it for a while, so drop it off and come back a few hours later. They'll tell you whether or not it's charged. It's time to move on to the alternator if it passes the test.
Alternator
Likely, the alternator didn't charge the battery sufficiently while the vehicle was driving, causing the battery to discharge. An alternator can usually be tested at most parts stores. They usually don't charge for this service; all they want to do is sell you an alternator if you need one.
While parked, the 500 battery is draining.
Here are two possibilities if your 500's battery is degrading after being parked for a few days.
The battery has failed and can no longer maintain a charge long enough to be of any use once the vehicle has been parked and drained.
Something is attempting to draw electricity when it shouldn't. If this is the case, the first thing you need to do is check out all of the lights. Check whether your 500 has a glove compartment light that isn't going off. Is it possible that one of the map lights is turned on? What about the rest of the plugs? Is there something hooked into one of them that is consuming electricity? Are there any aftermarket accessories available? If not, there may be an electrical issue.
Fiat 500 Battery Draining While Driving
If your battery is draining while driving, it is usually the alternator in your 500 to blame. If you see the battery or alternator light on, it means the alternator isn't producing the appropriate voltage to charge the battery.
It could be a defective battery or, more likely, a defective battery cable. However, this is unlikely. It's almost certain that the alternator is to blame if you hear a whining noise and the battery light comes on.
Fiat 500e electrical problems
When I tried to start my 500e today, I received the message "Service Vehicle Electrical System." I took the 12V battery out of the car and had it checked at AutoZone, and they said it was OK? It's the original battery, so I'm not sure what good looks like – I'm thinking of going to Walmart and picking up a new H5 battery to try.
I bought the extended warranty, so I'm not too concerned right now. Mopar wants to haul the automobile 61 miles to the nearest dealer. I informed them I had a certified dealer 4.5 miles away, making them laugh.
They informed me that this was not an option. Ridiculous. I did not complete the U69. Is it possible that this is the root cause of the problem? The contractors can be heard attempting to connect the main battery but to no avail.
The charger port [the portion mounted on the vehicle] on the 2013-2017 Fiat 500E is a flimsy plastic item that breaks easily while parked and is plugged into and disconnected from vehicle chargers.
Most appear to be broken due to plugging and unplugging the vehicle. It's also bolted to the body in a method that adds to the material's tension, making it more likely to fail.
It's also installed in an insecure location that exposes it to damage from other cars, passing pedestrians and bicycles, challenging to plug/unplug charge units, and more. Wire harness damage from broken connectors can result in electrical shorts, fires (including battery pack fires), and electrocution.
Chrysler/Fiat refuses to fix these under warranty without even checking the vehicle, instead of quoting $1800-$4000 [depending on region] to replace the entire harness, not just the broken connector body, leading many owners to ignore the problem or try 'creative' ways to get by, such as glues. Source
Fiat 500e charging problems
Good day, everyone!
I've had the car for 1.5 months and have logged approximately 1800 miles. Using the Fiat EVSE that came with the car, I have had no issues charging the car at level-1. I eventually got my Clipper-creek LCS-25 EVSE (hardwired) installed and started using it two weeks later. After a few days of use, the goalposts lights (Service Charging System) would come on occasionally.
I took the automobile in for inspection at the dealership. Regrettably, the computer's only error notice was "P0D27-00 BATTERY CHARGER 1 INPUT VOLTAGE TOO LOW."
Yet, they had no trouble charging the car at the shop using either my Fiat Level-1 EVSE or their Clipper-creek LCS-25. The computer was also restarted by removing the positive battery connector.
I also told them that I would acquire the goalposts lights (Service Charging System) from different Blink charging stations on a few occasions. I assumed it was a first-time user issue because I had no idea how to utilise these public stations. They could do nothing, so they sent my car back to me after two days.
Even though the LCS-25 EVSE had no fault lights, Clipper-creek opted to send me a replacement, assuming a problem with the LCS-25 unit. I replaced the LCS-25 EVSE with a new one and charged the car at level-2 for a few days before the intermittent goal posts reappeared.
I returned the automobile to the dealer, and the "INPUT VOLTAGE TOO LOW" notification was recorded on the computer once more. They were also able to charge the car at a pace of level-2 without issue. After two days, they gave my car back to me, claiming that the fault was with my Clippercreek LCS-25 EVSE at home, not the automobile.
Clipper-creek requested that I provide them with a photo of my car's charging port (see picture). The top-right pin, they realised, is smaller than the top-left pin. These two pins that transport the power are meant to be the same size, according to Clipper-creek. Clipper-creek owns a 2013 Fiat 500e and confirmed that the top pins on their car are the same size.
It would explain why I don't have any issues charging at level-1 but do have issues charging at the level-2 rate on occasion. A level-2 charge would be obtained if the top-right pin contacted the female connector on the J1772 plug.
This is the most up-to-date and promising theory on my charging issue. On the other hand, the dealer does not believe this is the problem and has urged me to take my car to another dealer. Really? I'm curious if other forum members can confirm that your charging inlet's top two pins are the same size.
This post aims to share my Fiat 500e ownership experience with other Fiat 500e owners in the hopes that it may be helpful to someone who is experiencing growing pains as an early adopter. Aside from the charging issue, I'm pleased with the 500e's performance as a daily commuter. Source
People Also Ask:
Fiat 500e common problems?
Transmission lunging, lurching, leaping, jerky shifting, or not functioning correctly are common issues. Oil, water, fuel, coolant, or other fluids are leaking.
Fiat 500e radio issues?
If your FIAT 500's radio isn't working, the first thing you should attempt is disconnecting the battery for 15 minutes, then reconnecting and testing the radio again. This will unfreeze the radio if it has been frozen. If that doesn't work, the fuse in the fuse box may need to be replaced.
Recommended Articles:
Eaton Electric Vehicle Charging Station
Solar Electric Vehicle Charger
On Board Charger Electric Vehicle
Georgia Electric Vehicle Tax Credit