Electric Vehicle Charging Stations Oahu
Topic: Electric Vehicle Charging Stations Oahu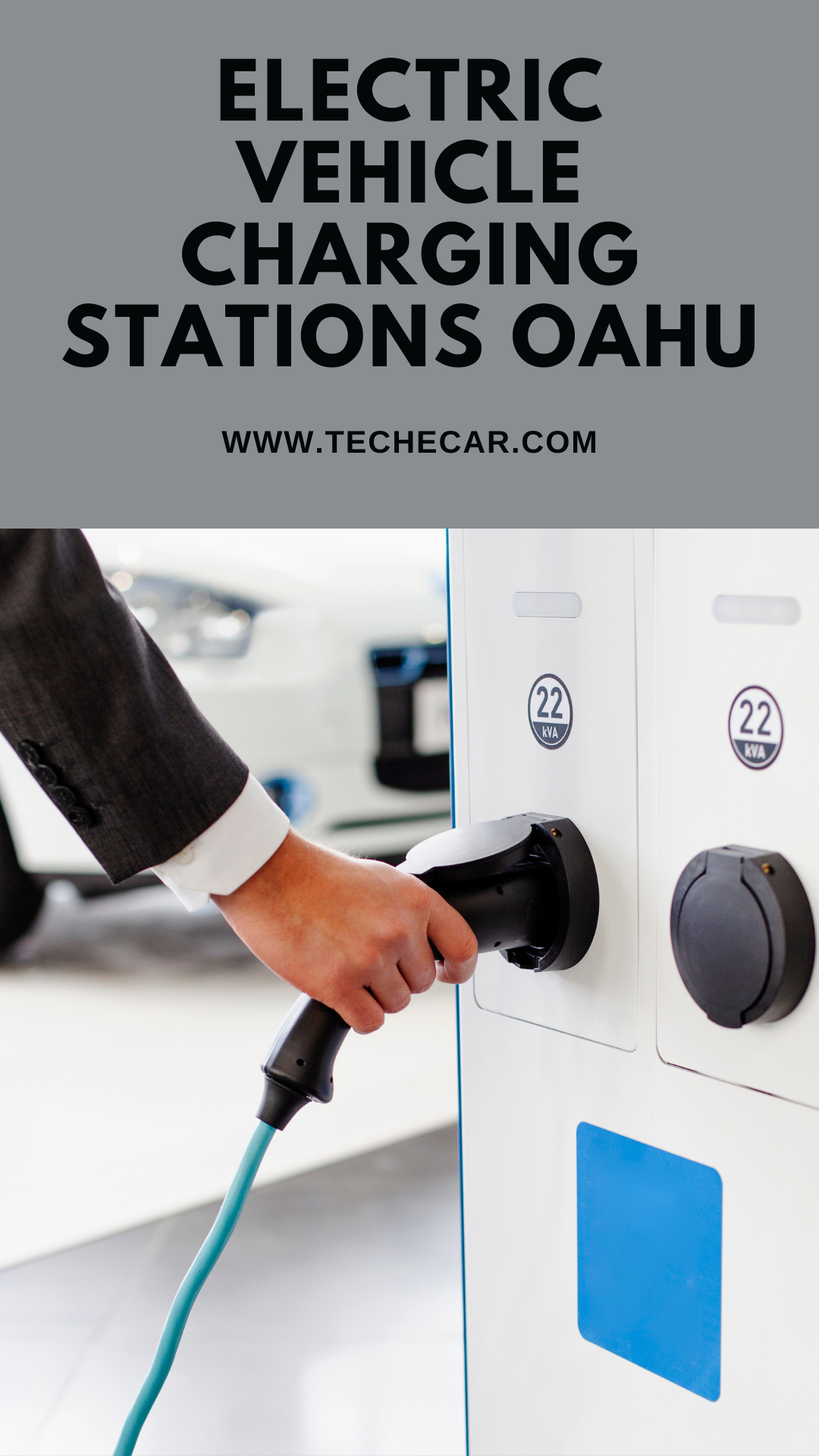 Electric vehicle (EV) stations have been introduced to Oahu and Maui as part of Hawaiian Electric's objective of achieving 100% renewable-powered transportation by 2045.
Using the new DC rapid charger stations, it is possible to increase a normal vehicle's range by around 40 miles in 15 minutes. Hawaiian Electric now has 25 charging stations for its more than 13,000 electric vehicles registered in the state due to their inclusion.
They're compatible with a wide range of devices, including credit cards and mobile apps.
According to Aki Marceau, Hawaiian Electric's director of electrification for transportation, more drivers will switch to electric vehicles when a dependable and convenient EV charging infrastructure is in place. By switching to electric vehicles, we'll be able to consume more renewable energy and lessen our carbon footprint.
An estimated 67 per cent of imported petroleum is used by Hawaii's transportation network, which accounts for more than half of the state's greenhouse gas emissions.
To meet the goals of the state's four counties, Hawaiian Electric is building a network of electric car chargers that can be used as a basis for the replacement of fossil-fuel-powered vehicles with electric ones by 2045 and 2030, respectively.
Because of the abundance of renewable energy and the cheaper rates, Hawaiian Electric expects these charging stations to encourage motorists to use their EVs during daylight hours when demand is lower, and costs are lower.
Electric Vehicle Charging Stations Oahu
An Overview of Electric Vehicle Charging
There's no shortage of electric vehicle owners with 286 public charging stations (Level 2 and Level 3) within 15 miles of Honolulu, Hawaii, the United States. Nearly 97% of the charging outlets are level 2 ports, and nearly half of the charging ports are free.
Honolulu is the state capital and the largest city in Hawaii. Level 2 charging facilities (240 volts) and level 3 charging stations (rapid charging) can be found within a 10-mile radius of the city centre. While in Honolulu, you'll find a wide variety of charging station options on ChargeHub's station map (accessible on iOS and Android).
In Honolulu, there are various avenues for promoting electric vehicle use. State legislation mandates that each parking lot with more than 100 parking spaces include a charging station powered by SemaCharge, Greenlots, ChargePoint, and connect.
To appreciate the luscious landscapes in Honolulu, we can defy the mountain ranges alongside the Pacific Ocean. Visit Kalihi and Alicia's Market to taste the local speciality, poké, which is made with raw fish and marinated veggies and is a popular Hawaiian dish.
Honolulu is a great place to enjoy the great outdoors, from soaking up the sun on Waikiki beach to trying your hand at surfing. Waikiki Beach has a DCFC rapid charging station and a free charging station.
A trip to Pearl Harbor is a must for anybody interested in learning about a pivotal time in world history. Located on top of the remains of the USS Arizona, which sank in 1941 during the attack on Pearl Harbor, this emotionally charged location is designated as part of the nation's National Historic Registry.
Those who live in Hawaii and drive a certified plug-in electric vehicle receive a state-issued licence plate that allows high-occupancy vehicle lanes and free parking, the latter of which is available in state and county facilities. Honolulu Airport has free parking and a level 2 charging station (not free of charge).
The Hawaii Public Utilities Commission has given Hawaiian Electric permission to own and operate public DC Fast Chargers in Oahu, Maui County, and Hawaii Island. The sites listed below allow electric vehicles to swiftly recharge their automobiles.
Hi EV! Honolulu Gets Solar-Powered ChargePoint Networked Charging Station
February 22, 2010 – Campbell, California – ChargePoint Networked Charging Stations for EV have been installed in Honolulu, Hawaii, for the first time.
On Cooke Street in Kailua, Honolulu's Ward Center lies 575 Cooke Street, where Green Energy Outlet, an eco-friendly provider of contracting materials, has placed the solar-powered charging station.
Hawaii now boasts two such stations: the first is a wind-turbine charging station at Maui Electric Company, which charges MECO-owned electric vehicles. The public charging station was constructed and maintained by WindChargeUSA, a Coulomb distributor based in Maui.
Richard Lowenthal, CEO of Coulomb Technologies, remarked, "In addition to being one of the most beautiful destinations in the world, Hawaii possesses the natural resources to make alternative fuelling options ubiquitous."
To power their charging stations, these forward-thinking companies utilise renewable energy sources like the sun and wind.
Several web-based portals are available to Hosts, Fleet managers, Drivers, and Utilities to secure the networked electric vehicle charging stations and provide authentication, management, and real-time control. The ChargePoint Network includes the networked charging station. Unique features of ChargePoint Network include:
Notice of charging status by text message or email
Smartphones can be used to locate charging outlets that are currently unoccupied.
Encrypted access to stop energy swindlers
energising authorised for security purposes
Integration of the Smart Grid with utility load control and V2G capabilities for the future
Electric car owners can use the network of charging stations by calling the 24/7 phone number on each charging station or signing up for a monthly access subscription and receiving a Smart Card from the ChargePoint Network.
There will be further payment alternatives in the future, such as using any smart (RFID) credit/debit card to approve a charging session or paying for charging sessions with an RPS. Please visit mychargepoint.net and select "Find Stations" to identify charging stations in your area.
A green business like The Green Energy Outlet has never been done before. Local builders and homeowners have been supplied with cutting-edge building materials and eco-friendly paints through his existing Green Energy Outlet (GEO) shop in Kailua.
Alternative energy and environmentally friendly items will be available in more variety at the new Honolulu GEO. Owner Frank Rogers says he sees the new GEO as more than just a company.
A place where people who are interested in sustainability for our future can come together and fuel up in a comfortable, pleasant setting to see new goods, discuss ideas, and learn from each other."
People Also Ask:
How many EV charging stations are there in Oahu?
Within 15km of Honolulu, Hawaii, there are 286 public charging stations (Level 2 and Level 3). 97 per cent of the ports are level 2, and 45 per cent are free.
How many EV charging stations are in Hawaii?
The US Department of Energy reports that Hawai'i presently has 361 EV charging stations with 739 charging ports.
How much does it cost to charge an EV in Hawaii?
| Time | Price per kilowatt-hour (kWh) | Price per kilowatt-hour (kWh) |
| --- | --- | --- |
| Mid Day 9 am – 5 pm | $0.49/kWh | $0.28/kWh |
| On-Peak 5 pm- 10 pm | $0.62/kWh | $0.40/kWh |
| Off-Peak 10 pm – 9 am | $0.60/kWh | $0.38/kWh |
Recommended Articles: