2022 GMC HUMMER EV SUV Review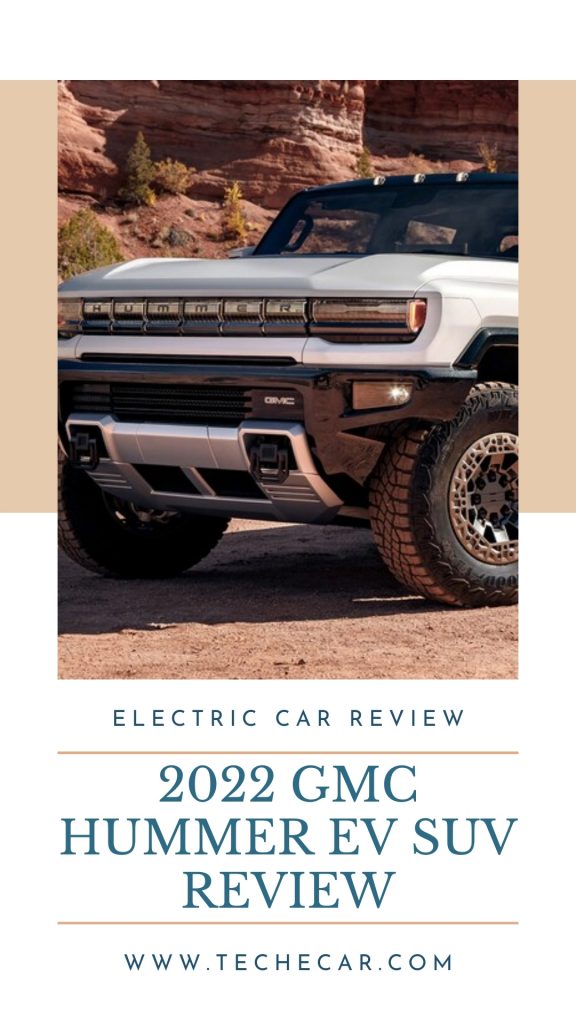 Topic: 2022 GMC HUMMER EV SUV Review 
2022 GMC HUMMER EV SUV Overview
GM will bring back the Hummer nameplate with the GMC Hummer EV in 2022, an all-electric pickup truck/SUV with 0-60 in three seconds, and a cost of $100,000 or more.
When GM acquired the marketing rights to the ex-military vehicle, the Hummer brand was added to the GM lineup. The lineup eventually expanded to include the H2 SUV, SUT vehicles, and the smaller H3, but GM was forced to remove the plugin in 2009 due to bankruptcy.
The brand that was once criticized for its environmental record will now be equipped with GM's latest all-electric drivetrain. It is powered by a 200-kWh battery pack and claims to have a range of 350 miles.
The three-motor system will produce around 1,000 horsepower and more than 1,000-pound-feet of torque, according to GM. GM promises 100 miles of range restoration in just 10 minutes with DC fast charging.
Other features of the Hummer EV include four-wheel steering with a diagonal "crab" mode, adaptive air suspension, and an underneath body-protection system that protects the battery from rock-crawling.
Although final specifications have not been confirmed, GM execs claim that the Hummer EV will fit within the Sierra 1500's footprint, although it is shorter overall. GM will make two body styles: a pickup truck with removable roofing panels and an SUV.
GM plans to release the first GMC Hummer EV in 2021 as a 2022 edition 1–but it is already sold out despite a $112,595 price tag including destination. Edition 1 models have a power-glass roof, a multifunction tailgate, and 35-inch OD tires. GM's Super Cruise driver-assist system, a digital keys system, and an Extract Mode that raises the suspension 6 inches to aid the Hummer EV in avoiding off-road pitfalls.
GM will then stagger the Hummer EV Launch to offer a three-motor EV3X priced at $99,995 and a spring 2023 delivery date. There's also a two-motor EV 2X, which is currently in development, as well as a base model starting at $79,995 but not expected to arrive before spring 2024.
The Hummer EV will be competing with the Rivian R1T, R1S, and the Ford F-150 electric versions. It might also include the Tesla Cybertruck. However, that vehicle is likely to be more affordable, at least for this stage in its development.
As GM builds prototypes for the new Hummer EV, more details will be revealed. Production will begin in Detroit next year, at the same facility that used to make Cadillacs. The battery cells are a joint venture between GM Chem and LG Chem and will be manufactured in Ohio.
What Techecar Think?
Pickup trucks such as the 2022 GMC Hummer EEV have electric motors that make sense. They can provide instant torque that could increase towing and hauling capabilities over diesel-powered heavy-duty trucks. There are also benefits, such as not producing the harmful emissions that have earned some trucks, including past Hummers, a bad reputation.
GMC's decision to create an electric pickup truck is timely. Ford is making progress in bringing the electric F-150 to market. Rivian, Ford's partner, has gained attention with updates about its R1T. Karma Automotive released a teaser video of its pickup. The shocking Tesla Cybertruck is also being developed. These vehicles will be available in the same timeframe as the Hummer EV. The stage seems set for electric pickup comparison tests and a quantum shift in the truck market as it is.
Performance and Fuel Economy
Three-motor 4WD will be featured in the first GMC Hummer EV versions. The engine will produce around 1,000 horsepower and a claimed 11,500 lb-ft of torque. However, electric torque is measured differently from mechanical torque. With the Watts-to Freedom mode, you can expect a time of 3.0 seconds to go from 0-60 mph.
We haven't yet seen EPA range figures for the Tesla Cybertruck or Rivian R1T, but they could travel more than 400 miles per charge. Soon, we will see if the GMC Hummer EV can match that, keeping range anxiety out of it. GM estimates that the battery can provide more than 350 miles on a fully charged charge.
According to the company, the Hummer will be powered by an 800-volt electric architecture and a 350-kilowatt fast-charging capability. This allows it to increase its range by 100 miles in just 10 minutes. The Hummer EV can also charge at home using an adapter provided or on regular public charging stations. However, charging times are considerably slower for those who don't have access to DC fast-charging stations.
Off-Road Capability of 2022 GMC HUMMER EV SUV 
GMC hopes to make Hummer Electric a highly capable vehicle off-road. Extreme Off-Road adds 18-inch wheels with 35-inch Goodyear Wrangler All TerritoryMT rubber (although the tires can clear tires up to 37″), underbody plating to protect, and a large camera system to act as a virtual spotter. The vehicle can be up to six inches higher than its normal ride height, thanks to adaptive air suspension.
GMC also offers the Hummer EV with four-wheel steering. This is what it calls CrabWalk. The new electric truck can be moved diagonally at low speeds by having all four wheels steer at the same angle. This allows for maximum maneuverability on difficult terrain.
Towing and Payload GMC Hummer
The Hummer EV must launch with high payload and towing capacities. According to Tesla, Cybertruck can carry 3,500 lbs and tow up 14,000 lbs using the tri-motor drivetrain. Ford's F-150 prototype EV has done the unimaginable, towing a train car weighing a million pounds. If Hummer wants to be considered serious in the EV pickup market, its entry in the field must offer similar numbers.
GMC has yet to release information about payload and towing. The Hummer EV must have a towing capacity of between 7500 to 11,000 pounds and a payload capacity of between 1500 to 3500 pounds to compete with Rivian's R1T or R1S models.
Interior, Comfort, & Cargo
The Hummer EV is a pickup truck with a crew cab and a 5-foot bed. An SUV model will be following the truck into production, expected to debut sometime in 2021. The interior of the Hummer EV is similar to GMC's Sierra crew cab pickup trucks. A new removable roof allows for the exterior to be exposed to the elements. This design was popularized in muscle cars and GM sports cars in the 1970s and 80s. The transparent panels can be positioned like a regular panoramic glass sunroof, but they can be lifted off and stowed in the Hummer EV's front trunk. This gives the truck a convertible feel similar to the Jeep Gladiator. Several moon-inspired touches, such as a moon boot footprint on the dead pedal or speaker grilles showing the Sea of Tranquility, are included inside.
Release Date: When can I get a Hummer Electric Vehicle?
In fall 2022, the Hummer EV will be available exclusively as an Edition 1 model. Moderately configured versions, including those with a two-motor drivetrain instead of the three-motor system of the top-end models, are expected to be available on dealer lots by spring 2024. A mid-level eAWD version will arrive one year earlier.
Hummer EV Edition 1
Only one variant of the Hummer EV Edition 1 will become available at launch. Edition 1 is a Hummer electric vehicle (EV) with all the GMC features, similar to the Lucid Air or its original Dream Edition offering. It includes the Watts to Freedom maximum acceleration mode and four-wheel "CrabWalk" steering. The adaptive air suspension is also included. Super Cruise semiautonomous highway driving functionality is also available.
Edition 1 includes a 13.4-inch infotainment screen and a 12.3-inch digital cluster of instruments. Open-air driving is possible with the panoramic moonroof and transparent removable panels. The GMC MultiPro tailgate also comes as standard. Edition 1 will feature a white exterior, a special Lunar Horizon interior, and a unique Edition 1 interior badge.
What is the Price of 2022 GMC HUMMER EV SUV?
Early adopters are likely to pay a premium. The Hummer EV Edition 1 is priced at $112,595, with less expensive variants coming later. The entry-level two motor trim, priced at $79.995, will be available in spring 2024. Spring 2023 will see a mid-level three motor model. The flagship (non-Edition 1) will debut in fall 2022 at $99,995.
Super Cruise: Now on Hummer Electric Vehicle
Cadillac has had it until now, but GM's Super Cruise semiautonomous driving technology will soon be available for the GMC Hummer EV. It is similar to Tesla's Autopilot and may even be better. The Edition 1 variants of the Super Cruise service will come with three years of service. Super Cruise is a subscription service. Although it is not yet available, the GM's upcoming Ultra Cruise service may be available later in the Hummer EV's lifecycle.
Warranty and Maintenance Coverage
The Hummer Electric Vehicle will be covered by the same warranty as other General Motors products. This includes bumper-to-bumper coverage for three years and 36,000 miles and powertrain coverage for five years (60,000 miles).
2022 GMC HUMMER EV SUV Review Video
People also ask:
How much will the 2022 Hummer cost?
Hummer EV Pickup enters production at the zero plant in Detroit and Hamtramck this autumn. GMC has about 10,000 preorrires for collection, which begins at $ 112,595. The following editions will be released by 2022, but the cheapest edition always starts at almost $ 80,000.
How much is the new Hummer EV SUV?
2024 GMC Hummer EV SUV: 300 electric electric miles will cost 110 $ 595 in the edition 1. The 2024 Hummer EV SUV, introduced practically on Saturday at the last NCAA tournament, essentially put the ball on Ford Bronco court, Jeep Wrangler And all the other SUV OFF-ROAD.
How much does a new electric Hummer cost?
Complete SUV prices vary from approximately $ 80,000 by a basic model of $ 110,595 for a special "edition 1" launch template with an available "extreme output package" available. The price varies depending on the beach, performance and size of the vehicle battery.
When can I get Hummer EV?
GMC expects Hummer EV to collect production starts in autumn 2021 and the production of Hummer EV SUV will begin at the beginning of 2023. When your vehicle is about to be produced, it will place your order from your selected distributor and receive an approximate time for Delivery .
How long does it take to fully charge a Hummer EV?
The Hummer EV offers the new technology of the Battery GM battery and has approximately 350 miles driving driving by load. The Hummer EV brings an 800-volt electrical architecture with a fast load capacity of 350 kilowatts, which means that you can add 100 other miles of range with 10 minutes of charge.
Can I charge Hummer EV at home?
The load connector used by GMC for Hummer EV is the same used by almost all large automotive companies in the United States. Unlike the supply of vehicles with gasoline engines, the owners will have the ability to recharge the battery of their electric vehicle in their home when an EV is connected and not used.
Recommended Articles:
2020 Kia Optima Electric – Kia Optima Plug-In Hybrid Review