How to become electric car mechanic training?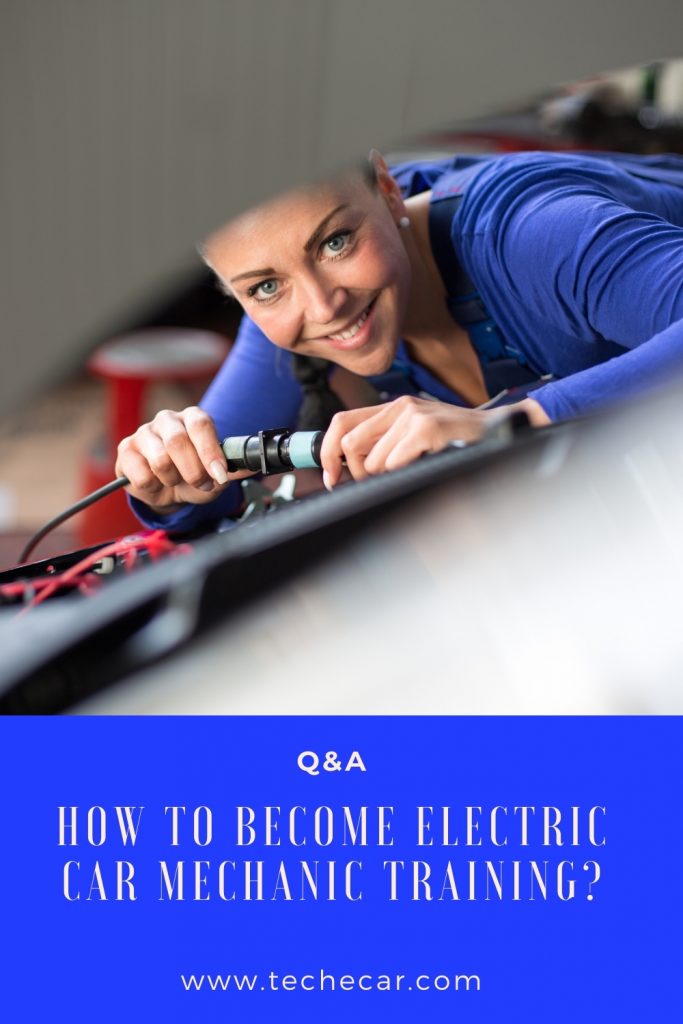 Topic: How to become electric car mechanic training?
Automotive technology has developed rapidly since its inception. Gone are the days when the driving force was provided primarily by gasoline and diesel engines. Alternative fuel vehicles appear to be the wave of the future, with electric cars poised to lead the charge. Along with the rise of these new technologies, there is a need for qualified mechanics to work on them. One of the best ways to enter the field of electric car mechanics is to earn an associate's degree in an automotive technology program followed by an internship in the field of your choice.
Seek a degree in automotive technology
According to the United States Bureau of Labor Statistics (BLS), auto mechanics and service technicians who have completed a certain level of post-secondary education will have the best job prospects. Prospective electric car technicians can begin their careers by enrolling in a certificate or associate program in automotive technology with a focus on hybrid technology. These programs teach students about alternative energy sources applied to the automotive industry. Courses may include fuel cell theory and operations as it pertains to automobile service and repair. Students also learn about motor generators and high voltage batteries.
Success tip:
Complete an internship. Internship programs provide students with the opportunity to gain practical experience in the automotive industry. The time spent on an internship can generally be counted towards the work experience requirements that some employers are looking for.
Before you can get the training you need to become an electric car mechanic, you must first decide which program you want to enrol in. You can determine which program is right for you by deciding if you have the skills to take the courses. Once you've determined if you have the necessary skills, you need to research the available programs and then determine exactly what type of electric vehicle you want to be certified in.
Step 1: Decide if you have the skills. While most people can become electric car mechanics with proper training, some lack the mechanical skills and diagnostic skills to make it happen.
Before pursuing a career as an electric car mechanic, sit down and think about your skill level in working with mechanical systems. Is it easy for you to work with machines? Do you understand how the different systems in a car work together to operate a vehicle? If you answered yes to both questions, you must be qualified to become a vehicle mechanic.
Step 2: Research the automotive technology programs available. After deciding that you want to pursue a career as an electric car mechanic, research what programs are available and where you can find them.
You can find an automotive technology program at local vocational and technical schools, as well as community colleges in the area. A person wishing to become an electric car technician can apply for a certificate or associate's degree in the area of hybrid technology that interests them.
Step 3: Choose a program. Once you've found a school or university that offers degrees and certificates in automotive technology, it's time to decide what type of electric vehicle you want to work on.
Complete an Internship and Get an Entry-Level Job
Once you've earned your certificate or associate's degree in the automotive technology program of your choice, it's time to look for work. Any experience you have as a vehicle mechanic should help you land a job. Some common employers of electric car mechanics are auto manufacturers, dealerships, and repair shops.
The National Institute for Automotive Service Excellence (ASE) certifies automotive technicians in various specialties, including alternative fuels and motor machinery. Earning this certification can demonstrate automotive skills and increase job opportunities. Each certification requires at least two years of experience in the respective field. However, ASE can replace formal training, such as completing an apprenticeship or post-secondary certificate or program, with one or more years of required experience.
In short, electric car technicians need entry-level automotive training and experience and can qualify for professional certification from the National Institute for Automotive Service Excellence (ASE). Overall, auto mechanics and technicians earned an average of $ 54,264 per year in 2021.
Step 1: Complete an internship. The easiest way to get work experience for a new job as an electric car mechanic is through an internship program.
Internship programs give you the opportunity to work with a more experienced mechanic and gain the practical experience you need after the internship is completed.
Some companies don't hire anyone without experience, so an internship is one way to get there.
Step 2: get a job. Once you have completed the recommended time as an intern, you can land a job as a full-time electric car mechanic.
This allows you to enjoy the benefits afforded to full-time employees but not interns, including stable employment, full-time compensation, and access to promotions and promotions within the company.
Get ASE Certified
Another benefit of completing an internship and landing a full-time job as an electric car mechanic is that you are now qualified to apply for ASE certification in your respective field. The National Institute for Automotive Service Excellence (ASE) offers a new certification in the form of the Electric Vehicle / Light Hybrid Specialist Certificate.
Step 1: Get two years of experience. As mentioned above, an internship is important to gain the experience necessary to land a job as an electric car mechanic.
The experiment generally required runes for two to five years.
Step 2: Get ASE Certified. ASE certification for hybrid electric and light vehicles is available to anyone who has passed the performance tests of automotive electric motors and electronic systems.
ASE certification is designed to test vehicle repair mechanics and certify mechanics with the proper skills. This gives customers and dealers a better idea of the skill level of the individual mechanic, as ASE certification is not easy to achieve.
To become ASE certified in hybrid electric and light vehicles, you must have at least three years of practical experience.
Step 3: Find another ASE certification. In addition to the basic certification in the car class you have chosen, you can apply for another ASE certification.
Mechanics who have passed multiple tests and obtained multiple ASE certifications can achieve ASE master status.
Becoming an electric car mechanic is a simple and straightforward process: earn a certificate or diploma, complete an internship, and get a job at an auto manufacturer, dealership, or repair shop. You can apply for additional certification through the ASE program, including master's status, after obtaining certification in the required areas. If you have any questions about getting a job as an electric car mechanic, feel free to ask a mechanic for an idea of how the process works.
---
Electric car technicians maintain and repair electric and hybrid-electric cars or vehicles that run on both gasoline and electricity. This job involves diagnosing, maintaining, and repairing these vehicles.
| | |
| --- | --- |
| Degree Level | Certificate; associate's degree. |
| Degree Field | Automotive technology; hybrid technology. |
| Licensure and Certification | Industry standard practice; generally required by most employers |
| Experience | 2-5 years preferred by many employers. Time spent in internship often counted towards requirement. |
| Key Skills | Good customer service, mechanical, and troubleshooting skills. Attention to detail and manual dexterity are also important. Additionally, technicians should use industry software such as CODA Engine Analysis System |
| Salary (2021) | $54,264(Average annual salary for Automotive Service Technicians and Mechanics) |