Jeep Wrangler X VS Rubicon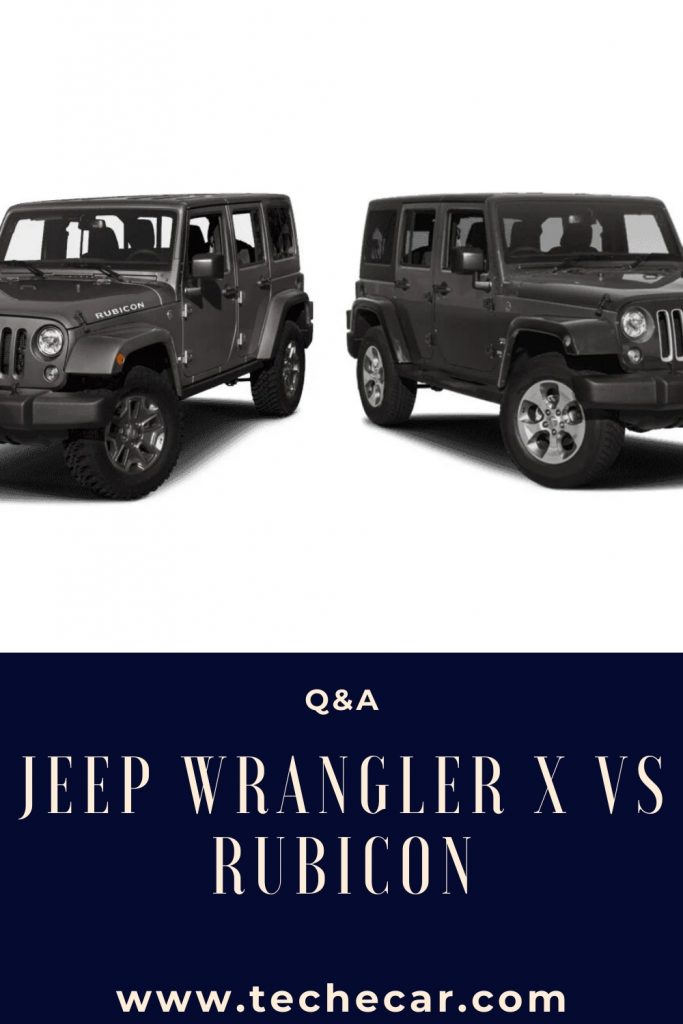 Topic: Jeep Wrangler X VS Rubicon
Dating back to WWII, the Jeep has been sold in a number of special editions and trim levels in recent years. Where offered, the Wrangler X designation refers to the base model, while the Rubicon is a more advanced Wrangler from the factory for off-road riding.
Wrangler X story
The first Jeep Wrangler X was offered in 2002 as a trim level to the Wrangler "TJ", which had been in production since 1997. The Wrangler SE was sold with a 4-cylinder engine and very few optional features, but the Wrangler X was supposed to be the base model for all other Wranglers with an inline 6 engine. The first Wrangler X came with a five-speed manual transmission (later changed to six-speed) with an automatic transmission option. True to the Jeep Wrangler's simple design and lack of refinement, the Wrangler X lacked common features, such as power windows or automatic door locks, standard air conditioning, and a fuel filler hatch.
Despite being the base model, the Wrangler X was available with a number of optional upgrades, including a premium audio system and alloy wheels.
History of the Wrangler Rubicon
Above the Wrangler X Sport were the Wrangler and Wrangler Rubicon. The Rubicon was first offered in 2003, replacing the Sahara Wrangler as the first-tier (and highest price). The Wrangler with the most options available. The Rubicon was named after the 20 mile Rubicon Jeep Trail in the Sierra Nevada Mountains. The Wrangler Rubicon came standard with off-road features like heavy-duty front and rear axles, an off-road suspension package, large wheels and tires, tow hooks, and fog lights. Other optional features of the Rubicon include tubular steel for the bumper and chrome grille accents.
In 2004, the Jeep Wrangler Unlimited was offered, a longer wheelbase version of the Wrangler with more interior space. The Unlimited was also available in Rubicon trimmed, making it the premium Jeep Wrangler offering until 2006.
The Wrangler X and the Rubicon today
Jeep redesigned the entire Wrangler line for 2007. The new model called the "JK" was available in the Wrangler two-door and four-door versions of the Wrangler Unlimited. Within each body style, there were three trim levels: X, Sahara and Rubicon. All JK Wranglers come with a 3.8-litre V6 engine and six-speed manual transmission as standard. The Rubicon was intended to be an all-terrain vehicle and includes:
Sturdy front and rear axles.
Side rock guards.
Fog lights.
Front and rear tow hooks.
Front disconnect and suspension for All-Terrain.
Additional refinements offered on the Rubicon (but not the Wrangler X) include a leather-wrapped steering wheel, cruise control, 17-inch alloy wheels, special coating, and an interior that resists stains and odours.
Different objectives
Throughout their journey, the X and the Wrangler Rubicon have been different versions of the same car with different positions. The Wrangler X is a budget version of the Wrangler, competitive with other entry-level SUVs. It offers drivers an affordable 4×4 and is best suited for drivers whose vehicles will experience off-road limitations. The Wrangler X is always tested by Jeep for its ability to tackle water slopes and steep inclines and demonstrate superior traction and handling.
On the other hand, the Rubicon is an iconic Jeep with special equipment offered at a premium price. Most Jeep enthusiasts who choose to deeply modify their Jeep for off-road use start with a Rubicon model because of its high axle strength and other built-in features. The availability of luxurious interior features also makes the Rubicon a better option for drivers who want the most comfortable Wrangler experience possible.
Other Wrangler models
In addition to the Wrangler X and the Rubicon, Jeep Wrangler has offered other editions that usually fall in between. The current level of the Sahara includes premium cloth seats, Sirius satellite radio, a full-length interior floor console, and tow hooks, all available on the Rubicon model but not on the Wrangler X.
From 1997 to 2006, the Wrangler Sport was the mid-level offering. It could be ordered with more off-road attachments than the Rubicon, but not on key options like heavy-duty axles. Likewise, high-end equipment for the Wrangler X could be similar to a Wrangler Sport, with a few key differences such as wheel and tire sizes.
Several special editions of the Rubicon have been offered, including links to the "Tomb Raider" and "Sahara" films. In both cases, the special edition Rubicons are produced in limited quantities and feature Rubicon off-road equipment options with additional appearance updates.
Frequently Asked Question:
What is the difference between a Jeep Wrangler X and Rubicon?
The main differences between Model X and Rubicon are in the transmission line. Rubicon: 4.10 gear ratio, front and rear Dana 44 axles, front and rear electronic locking differentials, and electronic anti-roll bar disconnect. X: 3.21 gear ratio for manual 3.73 for car, Dana 44 rear axle and Dana 30 front axle.
Is the Rubicon worth the extra money?
If you want to change the shafts and transfer case, no, but if you want to keep those items in stock, which are quality items, then yes, it is worth the extra money. The Rubicon has a much better value in stock or semi-stock.
What makes a Jeep Wrangler a Rubicon?
The Rubicon is the most skilled off-road model of the Wrangler. It comes with features dedicated to off-road performance. Suspension upgrades, off-road tires, and Rock-Trac shifting make the Rubicon a practical choice for less traveled trails.
What year Jeep Wrangler should I avoid?
Avoid buying 2012 Model.
Which Jeep Wrangler is the most luxurious?
Building on the success of its current SUV lineup and the power of nameplates from years past, the automaker has resurrected its Grand Wagoneer as a concept, and it's the most luxurious Jeep ever.
Which model of Jeep Wrangler is best?
2019 Jeep Wrangler Unlimited Rubicon via Four Wheeler Network.
2018 Jeep Wrangler JL. via Whichcar.
2007 Jeep Wrangler JK Unlimited.
2001 Jeep Wrangler Sahara.
1997 Jeep Wrangler TJ.
2006 Jeep Wrangler TJ.
2013 Jeep Wrangler JK Sport.
1987 Jeep Wrangler YJ.
Why is jeep so expensive?
They are expensive due to the fact that it is widely regarded as the best performing ATV available on the market today. This model is also a blank slate for those who like to make modifications and customizations to their vehicle, with Jeep offering many variations of the Wrangler to buy.
Is Jeep Wrangler a good car?
The 2019 Jeep Wrangler is a good SUV if you want a vehicle that can handle tough off-road conditions. Its fuel consumption is low, its ride quality can be tough on uneven pavement, and its projected cost of ownership is above average for a compact SUV.
Why is Rubicon so expensive?
The 2019 Jeep Wrangler is a good SUV if you want a vehicle that can handle tough off-road conditions. Its fuel consumption is low, its ride quality can be tough on uneven pavement, and its projected cost of ownership is above average for a compact SUV.
Should I get a Rubicon or sport?
If you have the money, you should go for the Rubicon over the Sport. It works better off-road and the creature's comfort and safety capabilities are much higher, making it much easier to use on long-haul roads. It also comes with (a bit) more security features out of the box.
Are Jeep rubicons worth the money?
Yes, it is definitely worth a Rubicon. As others have said, it will cost you more to do a sport as good as a Rubicon and you will spend a lot of time in it.
Recommended Article:
Should I Charge My Electric Car Every Night Part 2?
Should I Charge My Electric Car Every Night?
How To Convert A Car To Electric?
How To Become A Tesla Mechanic?
Chevy Spark EV Replacement Battery
Audi e-tron SUV VS Tesla Model X