Audi Ad Campaign
Topic: Audi Ad Campaign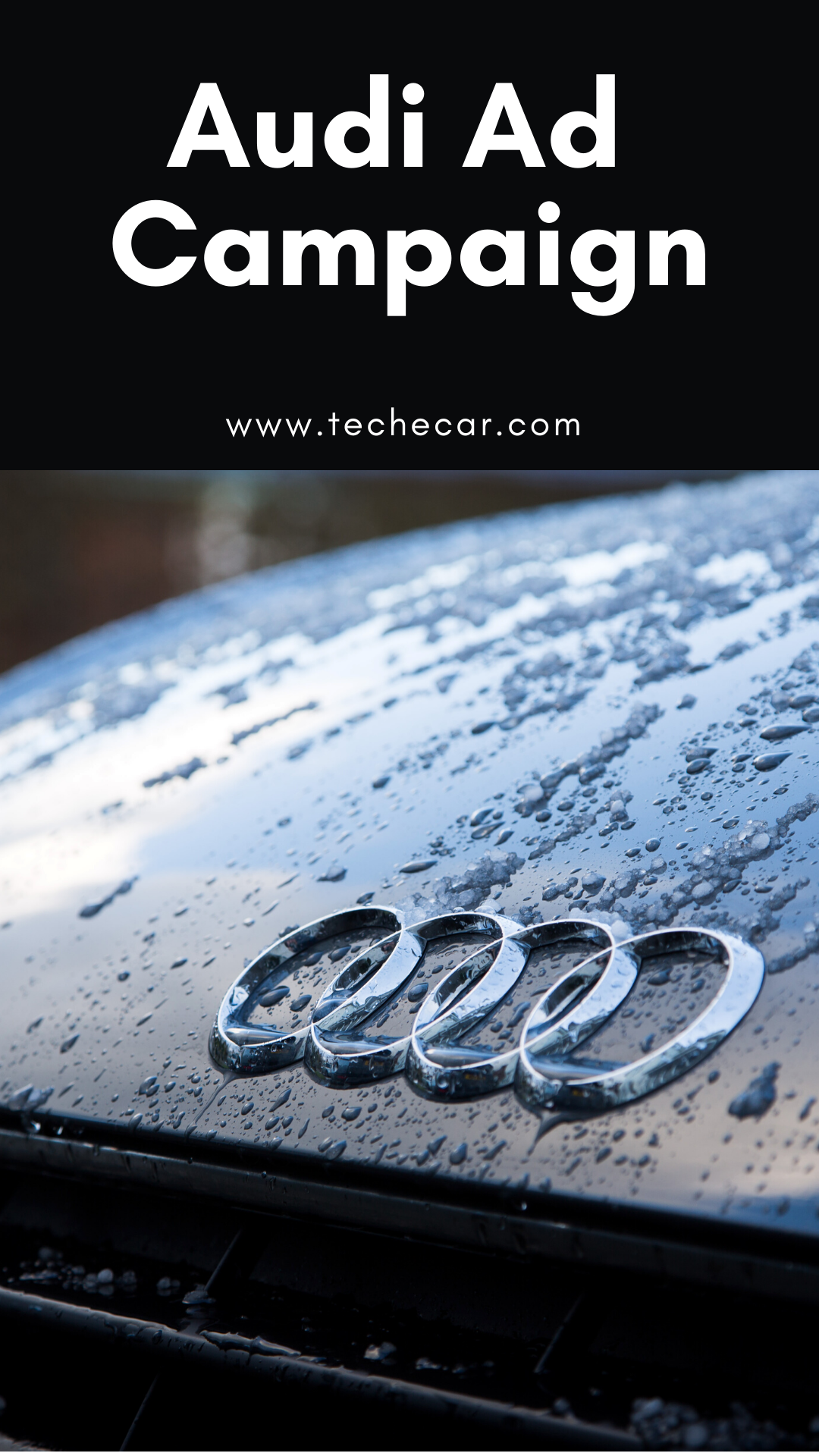 Audi Ad Campaign
Audi has launched a national advertising campaign to dispel myths about electric automobiles.
"Not For You," a national commercial, challenges perceived barriers to electric car adoption. The 60-second video refutes myths about range, charging infrastructure, and performance, showcasing Audi e-Tron as a confident choice for going electric.
Audi predicts that one-third of all new Audi models sold in the United States will be electrified by 2025, with deliveries of the 2019 Audi e-Tron to U.S. reservation holders set to begin in May.
Today, HERNDON, Virginia, April 8, 2019 — Audi launched a nationwide advertising campaign to address and refute some long-held misunderstandings and misconceptions regarding electric automobiles.
The campaign is led by a 60-second national television commercial titled "Not For You," which cleverly highlights a variety of perceived consumer barriers to electric vehicle adoption, such as range, charging infrastructure, and vehicle performance, to emphasise that the Audi e-Tron allows consumers to go electric without sacrificing performance. The nationwide campaign also includes an online educational film titled "Range Tranquility," which discusses how Audi aims to alleviate consumer range anxiety.
"As part of our commitment to electrification, we realised the need for further customer education on what it truly means to 'go electric,'" said Loren Angelo, vice president of Marketing for Audi of America. "Our objective with 'Not For You,' as well as advertising like this year's Super Bowl commercial 'Cashew,' is to guarantee consumers have a better understanding of electric vehicles and debunk some long-standing misunderstandings about E.V. ownership."
Deliveries of the 2019 Audi e-Tron are set to begin in May, in conjunction with the arrival of demonstration vehicles at dealerships. Customers who reserved an e-Tron will soon be able to drive electric without compromise.
Range: Going the extra mile daily
Even though premium car owners drive an average of 30 miles per day[1,], range anxiety remains a big concern for most consumers when considering the purchase of an electric vehicle.
Range: The Audi e-Tron is designed for daily use, with an EPA-estimated range of 204 miles. When combined with a precise range map in the vehicle's MMI Navigation system, Audi e-Tron customers may finally say goodbye to "range anxiety." Please watch the following short movie titled "Range Tranquility" to refute the concept of range anxiety further and understand the environment Audi has established for going electric.
Charging: Continual assistance at home and on the go
Consumer awareness of, and access to, quick, dependable charging infrastructure is another possible hurdle to electric vehicle adoption. Thanks to strategic partnerships and innovative digital solutions, Audi e-Tron owners can access a whole ecosystem of services, whether at home, work, or on the road.
Home Charging: According to the U.S. Department of Energy, more than 80% of charging takes place at home2, and this figure is expected to rise as E.V.s become more popular. Audi is making home-charging installation easier with Amazon Home Services, giving a premium approach to in-home charging guaranteed by Amazon's Happiness Guarantee, all at the push of a button, to ease the move to electric.
On-the-Go Charging: While 98 per cent of all single-trip journeys in the United States are less than 50 miles3, Audi e-Tron owners will occasionally need to travel a greater distance. Electrify America expects to deploy roughly 2,000 chargers across 500 fast-charging sites throughout 42 states and 17 metropolitan regions by the end of 2019, offering Audi e-Tron owners the possibility to charge their vehicles quickly. Within the first four years of ownership, Audi e-Tron owners receive 1,000 kWh of charge (the equivalent of about 2,000 miles of range) at no additional cost for use at Electrify America fast-charging stations. Furthermore, thanks to a battery that can charge at a class-leading 150 kilowatts at high-speed public chargers, the Audi e-Tron can get drivers back on the road faster than any other electric SUV. This amounts to a range of around 163 miles in 30 minutes or 54 miles in 10 minutes.
Audi DNA electrified performance.
A prevalent misperception regarding electric vehicles is that they perform poorly and cannot handle harsh situations. 47 per cent of people believe that gasoline-powered automobiles accelerate faster than fully electric equivalents, even though the contrary is usually true. 4
Performance: From the start, the Audi e-Tron makes no concessions. The car boasts unprecedented driving dynamics because of the low-positioned battery and multiple motors on the front and back axles. With Boost Mode enabled, these motors are designed to help distribute power effectively and deliver virtually immediate torque that propels the vehicle from 0-60 mph in 5.5 seconds. The Audi e-Tron perfectly embodies the electric prowess deserving of the four rings.
While extreme temperatures, particularly older ones, are thought to decrease E.V. battery life faster than expected5, the Audi e-sophisticated Tron's thermal management technology helps guarantee the battery is kept within its optimal efficiency and performance range of 77-95 degrees Fahrenheit. This unique cooling technology isolates the battery modules from the cooling fluid to assist preserve optimal efficiency and long-term performance.
The 2019 Audi e-Tron is the first of four all-electric cars that Audi intends to deliver in the United States in the coming years. Following the Audi e-Tron will be the Audi e-tron Sportback concept (scheduled to arrive in 2019), the Audi e-Tron G.T., and the Audi Q4 e-Tron (both expected to enter production in 2020).
Audi e-Tron MPGe 2019 The EPA forecasts a combined 74 city/73 highway/74. The EPA estimates the total range to be 204 miles. Actual mileage and range will vary depending on driving and charging habits, accessory use, temperature and topography, battery age, and vehicle condition.
The capacity of a battery degrades through time and use. The owner's manual has all the pertinent information.
MMI Navigation Plus relies on signals from the global Global Positioning System network. The vehicle's electrical system and existing wireless and satellite technologies must be available and operational for the system to function.
The system is intended to recommend pathways for identifying addresses, destinations, and other areas of interest. Audi of America, Inc. does not influence changes in street names, construction zones, traffic flow, points of interest, or other road system adjustments.
Because complete, precise mapping of lanes, roads, streets, toll roads, motorways, and so on is not possible, there may be differences between the mapping and your actual location. Please use your best judgement when deciding whether or not to follow a suggested MMI Navigation plus.
The best in class charging speed claim is based on the manufacturer's disclosed maximum charging speed statistics—Audi of America, Inc. The 2019 Audi e-Tron, Tesla Model X, and Jaguar I-PACE are the main competitors in this segment.
Charging times will vary depending on several parameters such as ambient temperature, charger type, battery condition, vehicle condition, and others.
Individuals who purchase an e-tron may be eligible for a $7,500 federal tax credit. Additional state incentives may be available as well. Federal and state incentives are subject to change; please consult your state's unique legislation on incentive eligibility, as not all benefits may be available to all customers.
The incentives mentioned are purely for informative purposes. This is not tax or legal advice and should not be construed as such. All individuals considering taking advantage of such incentives should check with their tax or legal professional to determine eligibility, the particular amount of incentives available if any, and additional specifics.
Audi has no control over the incentives, which are subject to change without notice. Before making a purchase, interested parties should confirm the integrity of the material.
Construction timelines for Electrify America charging stations are subject to vary. The 2,000-mile charging claim is based on the 2019 e-EPA-estimated Tron's range of 204 miles and utilisation of 1,000 kWh hours of high-speed charging. The actual mileage and range will differ.
Audi Ad Campaign
1) The Audi R8 gives birth to the RS3. Audi has produced some of the most amazing and inspired commercials over the years, but this one is simply incredible. In this commercial, an Audi R8 gives birth to an RS3 Sportback.
Audi's marketing team has taken a risk by creating a distinctive yet controversial commercial demonstrating that the RS3 shares some technical similarities with the R8.
A new amazing film is released to coincide with the launching of Audi's hottest hatchback and its most legendary performance car.
Birth's 110-second film is a progressive and technological masterpiece that captivates the viewer with the R8 giving birth to the RS 3 Sportback, the RS family's most recent member.
The R8's V10 roars as the supercar strains and deforms until the hot hatch is eventually pulled from its metallic loins, accompanied by dramatic music and a sci-fi aesthetic.
Robots remove the back bumper of a first-generation V10 facelift car to create a way for the "baby." The 5.2-litre naturally-aspirated gluey RS3 Sportback has replaced the V10 engine, but the robots take care of washing the recently born "baby."
According to Nick Ratcliffe, Audi UK's Head of Marketing:
The metaphor of the Audi R8 giving birth is not only visually appealing, but it is also incredibly apt. All of the qualities associated with the R8 can be found in the magnificent new RS 3 Sportback, and it is this DNA distinguishes Audi Sport.
The advertisement is a simple concept that has been masterfully implemented to capture the communication objectives for RS 3 effectively.
The film was produced by BBH London and directed by Andrew Proctor of Mill+. He collaborated with a team of VFX artists from Mill+'s London and Los Angeles facilities to generate the CG cars and environments utilising CAD data from Audi and imagery of real automobiles.
To assist create a powerful, mechanical, and organic spot, the Mill team of VFX artists meticulously created the automobiles and environment entirely in CG.
2) The Audi R8 is the mother of the RS3. Audi has created some of the most stunning and inspiring advertisements throughout the years, but this one is fantastic. An Audi R8 gives birth to an RS3 Sportback in this commercial.
Audi's marketing team took a risk by developing a distinct yet contentious commercial highlighting the RS3's mechanical similarities with the R8. To celebrate the premiere of Audi's hottest hatchback and its most renowned performance car, a new spectacular film has been published.
The 110-second film Birth is a progressive and technological masterpiece that captivates the viewer with the R8 giving birth to the RS 3 Sportback, the most recent member of the RS family.
The R8's V10 roars as the supercar strains and deforms until the hot hatch emerges from its metallic loins, complemented by the dramatic soundtrack and a sci-fi aesthetic.
To make room for the "baby," robots remove the back bumper of a first-generation V10 facelift automobile. The V10 engine has been replaced by a 5.2-litre naturally-aspirated gluey RS3 Sportback engine, but the robots take care of washing the newly born "baby."
According to Audi UK's Head of Marketing, Nick Ratcliffe:
The metaphor of the Audi R8 giving birth is visually stunning and appropriate. All of the characteristics associated with the R8 are there in the gorgeous new RS 3 Sportback, and it is this DNA differentiates Audi Sport.
The advertisement is a simple concept that has been expertly handled to capture the communication objectives for RS 3 properly.
BBH London produced the film, which Mill+'s Andrew Proctor directed. He worked with a team of VFX artists from Mill+'s London and Los Angeles offices to create the CG cars and surroundings, which used CAD data from Audi and real-world photography.
The Mill team of VFX artists methodically designed the autos and landscape entirely in CG to help create a powerful, mechanical, and organic spot.
3) HERE Collects Real-Time Traffic Data From Audi, Mercedes-Benz, and BMW Vehicles
HERE Technologies has launched the next edition of its HERE Real-Time Traffic service.
The market's first global service combines live car sensor data from Audi, BMW, and Mercedes-Benz automobiles with traffic probe data, resulting in much-improved accuracy and more exact information regarding traffic conditions.
HERE Real-Time Traffic, which is available to all current and prospective clients from any industry and covers more than 60 countries, provides considerable increases in traffic flow data, particularly on arterial routes.
The programme also delivers incident information with features such as Traffic Safety Warning for more than 30 of those nations. This feature now enables more relevant and timely messages to the car, thanks to new hard-braking sensor data that HERE is now analysing.
HERE Technologies' Senior Vice President Automotive, Ralf Herrtwich, stated:
This is the world's first traffic service to collect live rich vehicle sensor data from competing car brands. It represents a significant step forward for HERE in making driving safer and more efficient for consumers worldwide.
While it assists drivers in making educated decisions behind the wheel today, it also brings us one step closer to realising our goal of a live representation of the road environment required for advanced driver assistance systems (ADAS) and self-driving applications.
SBD Labs Director Andrew Hart stated:
A solid navigation experience is built on accurate traffic information. The number of probes from which traffic information providers collect data is commonly used to characterise their capabilities. Still, data richness will increasingly become the differentiating feature between a decent and exceptional service.
With their dozens of sensors, modern automobiles provide the richest potential source of real-time traffic data. HERE has devised a win-win strategy for accessing and analysing large amounts of vehicle data.
HERE collects billions of GPS data points every day and uses over 100 distinct probe and event sources to establish a solid foundation for HERE Real-Time Traffic. HERE is now combining data from millions of Audi, BMW, and Mercedes-Benz vehicles, with the fleet size set to rise even more in 2018 and beyond.
To improve the service HERE extends the population of business cars from which it collects conventional probe data.
HERE Real-Time Traffic informs drivers on traffic conditions and can also be absorbed by vehicle ADAS software. Ride-hailing firms, cities, road transportation agencies, logistics organisations, and air quality analytics specialists all extensively use the service.
The improved HERE Real-Time Traffic service is the first of four vehicle-sourced data services announced by HERE last autumn to be commercially available.
HERE thinks these services will aid the automobile industry's wider market introduction of sophisticated driver assistance systems and, later, autonomous driving solutions.
4) 72andSunny Amsterdam's Audi "Let it go."
In its latest Super Bowl commercial, Audi has enlisted Game of Thrones actress Maisie Williams.
In the commercial, Williams gets behind the wheel of the brand's e-Tron Sportback before getting stuck in traffic. "Today's high temperature is eight degrees above average," a radio station says, prompting the actress to perform a rendition of Frozen's Let It Go as she shifts lanes toward an environmentally friendly future.
Since the release of Frozen in 2013, this song has not been heard in a commercial setting.
72andSunny Amsterdam's first project for the brand since earning the worldwide account last year. In addition to the United States, the commercial will be broadcast on television and social media in the United Kingdom, Germany, France, Italy, Spain, and China. It was directed by François Rousselet and distributed by Anorak.
5) Audi's #CatchtheUnseen campaign encourages people to visit Sweden.
Audi sponsored a first-of-its-kind competition, #CatchtheUnseen, in which participants were encouraged to take their Instagram images further than anybody else.
Audi produced a webpage with a map indicating where the most Instagram photographs were shot in Sweden, with the support of Swedish agency kestam Holst.
They devised the #CatchtheUnseen campaign to demonstrate how we prefer to shoot photos from the same locations. The campaign highlights Audi's new Q7, which may take you to previously uncharted territory.
The #CatchtheUnseen campaign encourages Instagram users to post images in less-visited areas of their country and explore its natural beauty.
When users uploaded an Instagram photo with the hashtags #CatchTheUnseen and @AudiSweden, the system found the nearest geotagged photo and displayed its distance.
The competition winner took a photo that was more than 13 kilometres away from another photo and won a brand new Audi Q7. The campaign was a big success, allowing Audi to reach over 500,000 Instagram followers.
6) In Audi's Sandbox, Big Kids Can Play Virtual Reality.
An Audi sandbox-inspired virtual reality campaign has been launched.
Creative agency POL from Norway created the campaign. Audi Norway created a sandbox installation and virtual reality to allow drivers to test-drive the new Q5 model, which was titled Enter Sandbox. Media Monks is in charge of the digital production for the Sandbox 2.0 VR experience.
By using an infrared depth camera to scan the sand, a virtual reality atmosphere is created. An infrared camera collects data from over 200,000 measurement sites as brief infrared beams are blasted into the sand.
An Audi A5 is used as a vehicle to weave the environment, accompanied by bumps, bends, and an immersive experience. As stated in a prepared statement by Audi Norway's Director of Marketing, Tommy Jensen,
Playing with sandbox automobiles is a distant memory for many of us now. It's a fact of life that opportunities like this don't come along very often after you hit a certain age.
For both children and adults, the Sandbox 2.0 is a cutting-edge toy. It provides a platform to rediscover the delights of driving and demonstrate the Quattro technology in a fun and approachable way.
After the initial launch period, the product will be offered in other nations and marketplaces. According to the firm, the sandbox is specifically intended for simple portability, which claims to have world-class technology. As a result of this, enjoyment will soon be available to everyone.
It seems like although the sandbox experience is sending us back to childhood, VR mixes it with the future. Until then, we're eagerly awaiting the international release.
Progress. Once upon a time…
Over a century ago, Audi was built on the premise of ongoing advancement. As well as in the design of our cars, this vision is reflected in how we see the world around us.
What this entails is looking for opportunities to learn from every scenario. When others see impossibilities, you see possibilities. And motivation in the face of adversity. We are being conscious that our efforts today will result in better automobiles and a better future. Audi views the future as a way of life.
Exactly what is it about an Audi that sets it apart?
Getting from A to B is no longer enough. When it comes to distinguishing an Audi from other luxury automobile brands, it's the combination of these three factors that counts. A new breed of automobiles that are both exciting and innovative simultaneously.
Sustainability
Electricity will rule the world in the future. Thee-Tron Sportback, for example, is the latest in a growing line of electric vehicles built in a carbon-neutral plant.
Design
Traditionally, automotive design was confined to the body's shape. The digital OLED lights on the Audi Q5 shows just how far it's come, from seating to lighting. Lighting consumes less energy but is brighter and can be controlled in discrete segments with distinct light signatures.
Digital
We are all connected in some way. Getting into your car should not be the end of it. It implies keeping an eye on your vehicle using the myAudi app in an Audi. Lock and unlock, check gasoline or charge, send directions, remember where you've parked – and more. There's an app for that. It's all at your fingertips*.
Performance
Audi has always been known for its innovative and creative approach to design and development. The Audi Sport models are road-going versions of their racetrack-bred forebears. The new RS Q8, a roomy, useful SUV with the ability to accelerate from 0-62mph in under 3.8 seconds, maybe the best example of this.
Next-generation Audis will use the potential to face the challenges of the future and embrace new technologies.
AI: ME
The AI: ME idea is small, battery-powered, and can drive you completely autonomously through the future megacities.
People Also Ask: